'We have lost one of our cherished angels'
October 29, 2019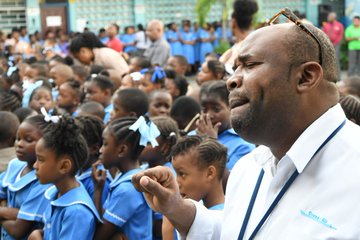 Sheldon Richards, the principal of Clan Carthy Primary School, has said that having reviewed the video footage of Monday's tragic incident at the institution that left one student dead, he has to conclude that God is good.
"We have lost one of our cherished angels, but for those who witnessed what happened… There is one conclusion that can be drawn - God is good - because there were over 18 students playing in that area," Richards said.
Seven-year-old Benjamin Bair was crushed by a garbage truck on the school compound on Monday.
School board chairman Donald Foster said that what happened on Monday is inexplicable.
"We, on such an occasion, should not question the will of God, but I am sure it will be revealed to us in good time…They (members of the school board)  have pledged their full support to help us restore normalcy at our school at the shortest possible time," Foster said.
Karl Samuda, the de facto education minister, said that children are the most important assets in the country.
"My primary focus has been on preparing this age group to move into the secondary-school system because we believe that is where the emphasis should be placed," Samuda said.
He said that investing in children is the only way that "we will be assured we have a safe and productive future, and that is why I am so saddened by what occurred here".
Opposition Leader Dr Peter Phillips was among several officials who turned up at the school on Tuesday to lend support.
"We are confident that all of us miss him and that we are going to keep praying for him and his family and friends, and I want everyone, especially the young children, to know that it is natural to feel sad. Although we are sad there is life ahead of us, and we must keep moving forward. We are all here because when all is said and done, we are part of one national family. Your pain is our pain, your grief is our grief, and we have to help each other," Phillips said.